About Lithia Chrysler Jeep Dodge of Tri Cities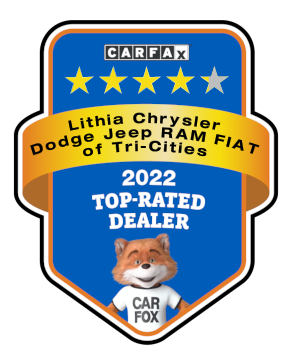 Why Buy From Lithia Chrysler Dodge Jeep Ram FIAT of Tri-Cities
Thoughtful Amenities
Whether you are waiting for your vehicle to get serviced, picking up a part for your vehicle, or stopping by to check out a new vehicle for yourself, we offer a wide range of amenities to enhance your experience here! Come by, look around and check what we can offer you!

Allow Lithia Chrysler Jeep Dodge of Tri-Cities to Introduce Ourselves
You might know us as a popular Dodge, Ram, Jeep, FIAT, and Chrysler dealership, serving the greater Tri-Cities area. We are... But, that's not all we are. We're your neighbors with a vested interest in keeping you safe and confident while you're on the road. That's why we choose to sell new Dodge, Ram, Jeep, FIAT and Chrysler and used cars in the Tri-Cities area. It's also why we offer first-rate Dodge, Ram, Jeep and Chrysler service.
Our commitment to treating you in a neighborly fashion extends from our inventories and auto repair service to our no-frills, easy-to-comprehend auto financing .  This comes not only in the form of car loans and leasing for drivers from Kennewick, Kennewick, Moses Lake and Yakima, but a tenacious spirit dedicated to getting the flexible terms you deserve.
Please feel free to explore our entire site and see all of the products, services, and pre-buy car research we have to offer. If you have any questions, drop us a line, give us a call, or drop by 7171 West Canal Street Kennewick, Washington. We're conveniently located near Interstate 82 and 182, and less than a mile from the Columbia Center. We hope to have the pleasure of meeting you soon.
Lithia Chrysler Jeep Dodge of Tri-Cities, located in Kennewick, Washington, joined the Lithia Motors family of dealerships in October1999 after being acquired from Roberts Tri-Cities Dodge, Inc.
Lithia Motors, Inc. is one of the largest automotive retailers in the United States and is among the fastest growing companies in the Fortune 500 with 170+ stores in 18 states. We offer 30 brands of new vehicles and all brands of used vehicles in our stores and online at over 200 websites.