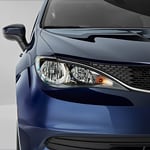 Chrysler voyager car models have excellent mechanical engineering system that makes the model stand out among other cars. The 2020 Voyager has perfect mechanical performance that makes it easier for you to drive around your family in style. The minivan offers larger and better performance than any other car model in the automobile industry.
Featuring a Pentastar V 6 engine and 262-pound feet of torque and nine-speed automation transmissions, the minivan is ranked among the most powerful automobiles in the car industry. Whether planning to ferry your family to attend a party or any other functions, the high capacity Chrysler Voyager is an ideal car that you need to add on your fleet. Complete with excellent security features that enhance performance when driving around, the car is projected to be among the most powerful and safest to use in driving around your family.
Are you tired of riding into regular cars that don't guarantee the safety of your family? Add a Chrysler model on your fleet and enjoy an exceptional driving experience.